Submitted by Rocks 'n' Roots on
FAQ - Polymeric Sand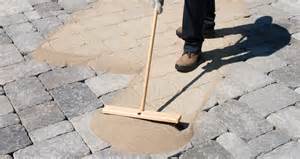 WHAT IS POLYMERIC JOINTING SAND?
Techniseal Polymeric Jointing Sand is a high-tech mix of graded sand (ASTM C-144) and binder, specially formulated for the filling of narrow or wide joints when installing pavers, slabs or natural stones, or when replacing existing joints. Unlike conventional sand, it stays in place and remains stable. It softens when wet and firms up when dry to better resist soil movements.
HOW MANY COLOURS OF POLYMERIC JOINTING SAND ARE AVAILABLE?
Two colours are available, Tan and Grey. Depending on what part of the country you are from, shade will vary, a special name is added to the colour and a different product code is given to the product. But it is the same Polymeric Jointing Sand that is in the bag.                 
CAN POLYMERIC JOINTING SAND ELIMINATE WEED GROWTH IN JOINTS?
Techniseal polymeric sand prevents weed growth in paver joints almost completely. However, it is important to keep in mind that if pavers get very little sunlight and a lot of moisture, moss and algae growth is inevitable. In fact, contrary to popular belief, growth takes place on top of the polymeric sand joint and not from underneath the pavers. Airborne particles often accumulate in the joints, creating a friendly environment for moss growth. For most folks, this is an undesirable situation, this is why it is important to reduce the moss inducing factors by applying a protector and plan for an annual cleaning.
I ALREADY HAVE SAND IN MY PAVER JOINTS. CAN I USE POLYMERIC JOINTING SAND?
Yes. If you are tired of sand erosion, weeds and ants on your pavers, Techniseal Polymeric Jointing Sand can be used to replace old sand in your joints. Simply remove the old sand completely and apply Techniseal Jointing Sand. This can easily be done by a professional applicator.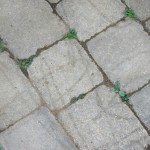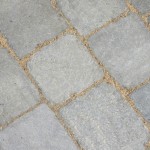 Before                                       After
CAN I USE POLYMERIC JOINTING SAND EVEN IF MY JOINTS ARE VERY TIGHT?
Techniseal Polymeric Jointing Sand can be used on joints that are at least 1/8 inch wide. If there is no space between the pavers, there's no place for sand.
CAN I USE POLYMERIC JOINTING SAND WITH NATURAL STONES?
Yes. Techniseal recommends its HP2 Polymeric Jointing Sand for natural stones. It is possible to use HP2 on joints as wide as 4", as long as it is installed properly. NEVER use the product if joints are wider than 4 inches.
WHAT ARE THE ADVANTAGES OF TECHNISEAL® POLYMERIC SAND OVER NORMAL, LOOSE SAND?
Techniseal® Polymeric Sand has proven its worth over the last 15 years. It hardens quickly after being showered and stays in place permanently. Contrary to plain sand, it inhibits weed growth and deters ants.
THERE IS ALREADY SAND BETWEEN THE PAVERS. CAN I SIMPLY ADD TECHNISEAL® POLYMERIC SAND ON TOP?
No. It is important to empty the joints before filling them up with Techniseal® Polymeric Sand. Polymeric Sand needs a minimum depth of 4 cm (1 ½") to be effective. Use a power washer to empty the joints. If there is already polymeric sand between the pavers, soak the sand to soften it up before emptying the joints.
WHAT IS THE DIFFERENCE BETWEEN SMART SAND CUBE AND RG+ POLYMERIC SANDS?
SmartSand Cube is sold in a practical, easier to carry packaging. It is recommended for residential projects with light traffic and for joints up to 13 mm (1/2") wide. The RG+ is a polymeric sand with superior strength recommended for areas with normal traffic and for joints up to 2.5 cm (1") wide.
I AM ABOUT TO FILL MY PAVER JOINTS AND WAS WONDERING IF THERE IS ANY MANDATORY DIRECTIONS TO FOLLOW WHEN WETTING TECHNISEAL® POLYMERIC SAND?
It is imperative to wet the sand with plenty of water, by setting the pistol nozzle to the "Shower" mode. Techniseal®'s fast setting Polymeric Sands need a lot of water in a short period of time because they begin repelling water soon after they start to be activated.
CAN I USE POLYMERIC SAND FOR FILLING JOINTS BETWEEN NATURAL STONES?
Yes ; use HP2.
HOW LONG DO I NEED TO WAIT AFTER INSTALLING SAND BEFORE I CAN CLEAN AND SEAL THE PAVERS?
It is strongly recommended to wait at least 30 days after the installation of polymeric sand before cleaning and sealing the pavers. This curing period allows the joints to harden completely (curing period).
WHAT TOOLS DO I NEED TO INSTALL POLYMERIC SAND WITH?
1 – Hose Gun   2 – Street Broom   3 – Rubber Mallet   4 – Leaf Blower   5 – Plate Vibrator (optional)