Submitted by Rocks 'n' Roots on
Keeping It In The Family - The story behind Rocks 'n' Roots
In 1928, when August Zendt started a little maintenance company called Zendt's Landscaping, he probably never knew the legacy he would leave.  He did it because he was a bit strong-willed and felt he could earn a better living than working for someone else while doing something he loved. 
His company was successful and each of his sons, Karl, Jack and Paul, were groomed and working from the early age of 11. Families pulled together in those days and following in the footsteps of your father was expected.  Each son enjoyed the work and felt a duty to help, but they noticed things that they didn't like and the desire to improve the family business and the status of the industry grew in them.  Jack, specifically, remembers going to a job in Grosse Pointe and the owner telling him he could not drink water from the cup other help used...he, and his crew, must use the garden hose.  The humiliation was deep, and he resolved at that moment he wanted to make a difference.
Upon graduating high school, it was a given that each son would go to Michigan State University to study Horticulture.  Zendt's Landscaping was no longer just a maintenance company and plant knowledge was key for the company's growth.  After returning from college Karl introduced a computer system, long before it was used in small businesses, which gave the company a huge step in modernization.  And, Jack brought in hydroseeding and tree moving equipment which became huge divisions, and eventually opened a ten-acre nursery in Auburn Hills.
In 1981, after the death of his father, Jack left the family business and together we started Zendt Brothers Landscape Contractors.  Our children were also groomed early, and working in the business around the age of 11.  It was thought, and even expected, that they would join the family business.  After the devastating death of Sherry, our eldest daughter, who was studying Landscape Architecture at M.S.U., the direction of her siblings changed.  Times were different, and following in a family's footsteps was not so revered by society.  That, and the loss of their sister, made them reconsider their commitment to the family business.  Brandy went on to Central Michigan University earning a double degree in Marketing and Communication and Jason chose to turn away from the family business and strike out on his own.  Yet, it was very difficult for them to stay away, and shortly before she graduated Brandy decided to join the family business, stressing a feeling of missing being a part of the family history, of commitment and family pride.  Jason, too, felt the tug at his heartstrings and chose to return after several years at the "School of Hard Knocks," saying he missed the feeling of working with family, and even though it could be hard work, it was satisfying and even exciting.
Today, with the help of Jason and Brandy, Zendt Brothers Landscaping has evolved into Rocks 'n' Roots, a successful landscape hard goods and pond supply store in Washington Township.  Jason and Brandy are slowly taking over more and more of the business, and, through their innovation, the company has grown amazingly.  Partly because they were allowed free reign to bring in new divisions: pond, sprinkler, lighting and hydroponics.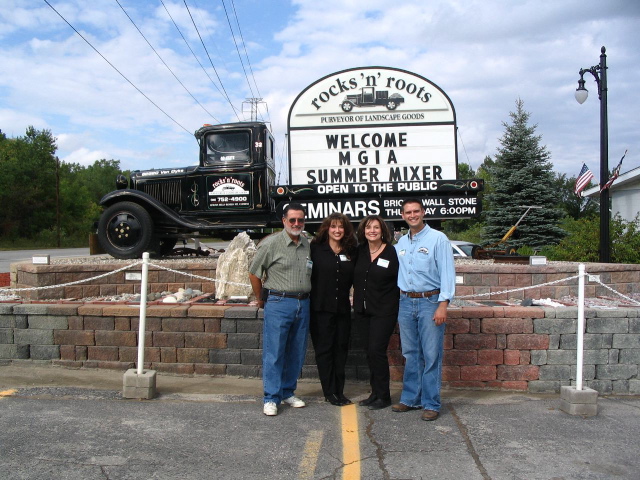 They continue to feel great satisfaction at growing the small, single pickup, kitchen table company their grandpa started in 1928, into a well-known, 6-acre, retail/wholesale store.  And, often on Saturdays, their children can be found sweeping or stocking shelves, proudly wearing their company shirts and saying they want to work at Rocks 'n' Roots when they grow up.
What are the underlying threads from generation to generation?  Mostly family pride. Pride of ownership, pride of working as a family unit, pride of success.  Also, a joint belief that there are no free rides, that rewards come from doing a job well and seeing it through to the end.  We all talk of work ethic, excitement at accomplishment when we see our ideas grow to fruition, a joint goal to strenghthen the image of the industry, the closeness our family has that others might never know, and the fun.  Yes, working with family is fun!!  Not a day goes by when we don't share a laugh.  And, underlying it all is that we know how proud August Zendt would be.
Submitted by:   Barbara J. Zendt, President of Rocks 'n' Roots